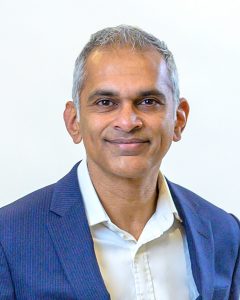 Dr. Bhavanesh Makanjee
MB ChB (Natal), MRCP (UK), FCP (SA), Cert.Cardiology (SA), FRCP©, FHRS, CEPS-AC
Dr Bhavanesh Makanjee qualified as a medical doctor at age 22  at the University of Natal in South Africa, achieving top honours In Internal Medicine and being the award recipient of the EB Adams prize. He then further  trained in Internal Medicine in Durban, South Africa and thereafter worked as a staff internal medicine specialist in England and Northern Ireland.
In 2005, he returned to South Africa to train in Cardiology at Groote Schuur hospital, Cape Town ( home of the world's first heart transplant) under Professor Commerford (2005-2008).  In 2008,he  did a sub-specialty electrophysiology fellowship, as a recipient of the Discovery Academic Scholarship, under the world-renowned Electrophysiology giant Dr. George Klein in London, Ontario (2008-2010).
In 2010, he joined the former Scarborough Health Network ( formerly known as Rouge Valley hospital) as a cardiologist and interventional electrophysiologist.  Some of the milestones he helped  achieve included:
Setting up an inherited arrhythmia program
Introduction of cutting-edge technology including irrigated catheters (for more effective ablation), active fixation pacemaker leads (decreased risk of lead dislodgement), intracardiac echo (for safer ablation procedures) and the Cryoballoon Atrial Fibrillation program ( currently the largest such program in Canada)
Introduction of transseptal procedures for cure of certain arrhythmias
During his  career,  he received membership and fellowship certifications in South Africa, United Kingdom, Canada and the United States. He is currently a member of the Canadian Heart Rhythm Society and a fellow of the Heart Rhythm Society  .He has  participated and completed an Advanced Certificate in Clinical Leadership at York University
He has helped set up monthly community Electrophysiology journal club rounds , annual Cardiology CME meetings designed for family physicians and ER doctors  , regular EKG rounds for ER physicians, and Cardiac MRI rounds for MRI radiologists and cardiologists.
He is an expert in the management of heart rhythm disorders ( arrhythmias), with a particular focus on ablation( a procedure that targets and cauterizes or freezes abnormal heart tissue to eliminate heart rhythm irregularities) for atrial fibrillation, supra ventricular and ventricular arrhythmias , and cardiac device implantation including defibrillator and cardiac resynchronization therapy. In addition to his clinical work ,he participates in multicentre  national and international research trials, particularly  in patients with arrhythmias and heart failure
Director of Complex Ablation Program,
Director of the Cardiac Electrophysiology Laboratory,
Interventional Electrophysiologist & Cardiologist
Scarborough Health Network